Apprenticeships have been used throughout the world to train workers in almost every industry, and the results have been consistently amazing.  Yet America has been slow to adopt this highly successful model in non-trade careers.  Ethos Project is changing that.  Introducing the Ethos Project IT Apprenticeship Program.

Apprenticeships Have Amazing Benefits
For Businesses

Reduced Staff Costs
You pay an apprentice accordingly to a progressive system according to their skill level, which means your company can save a lot of money while expanding your labor pool.
---

Subsidized Compensation
Employers can have up to 50% of their apprentice's wages subsidized. That means you get the alert you need at half-price for a year. That's not chunk change.
---
Workers Tailored For You
Conducting On-The-Job Training gives you the chance to mold apprentices according to your company's vision & standards, producing a workforce customized for your business.

Free Up Senior Staff
Apprentices can take care of many tasks, allowing more experienced staff to tackle bigger problems without wasting them on menial tasks.
---

Gain Certified Workers
As you know, research has proven time & time again that certified workers outperform non-certified workers. Apprenticeship lets you create your own pipeline of this highly valuable resource.
---

Energize Your Staff
Apprentices are eager to learn and brings a fresh new energy to the staff in ways that can' be replicated through morale initiatives.  That means your existing staff increases their value as well.


Industry
Certification
Apprentices can take care of many tasks,
---

---

On-The-Job
Training
Apprentices can take care of many tasks,
---

---

Progressive
Compensation
Apprentices can take care of many tasks,
IT Apprenticeships present an amazing opportunity for workers to learn their craft from real professionals and gain industry certification that employers desperately want…  all while getting paid progressively according to your skill level.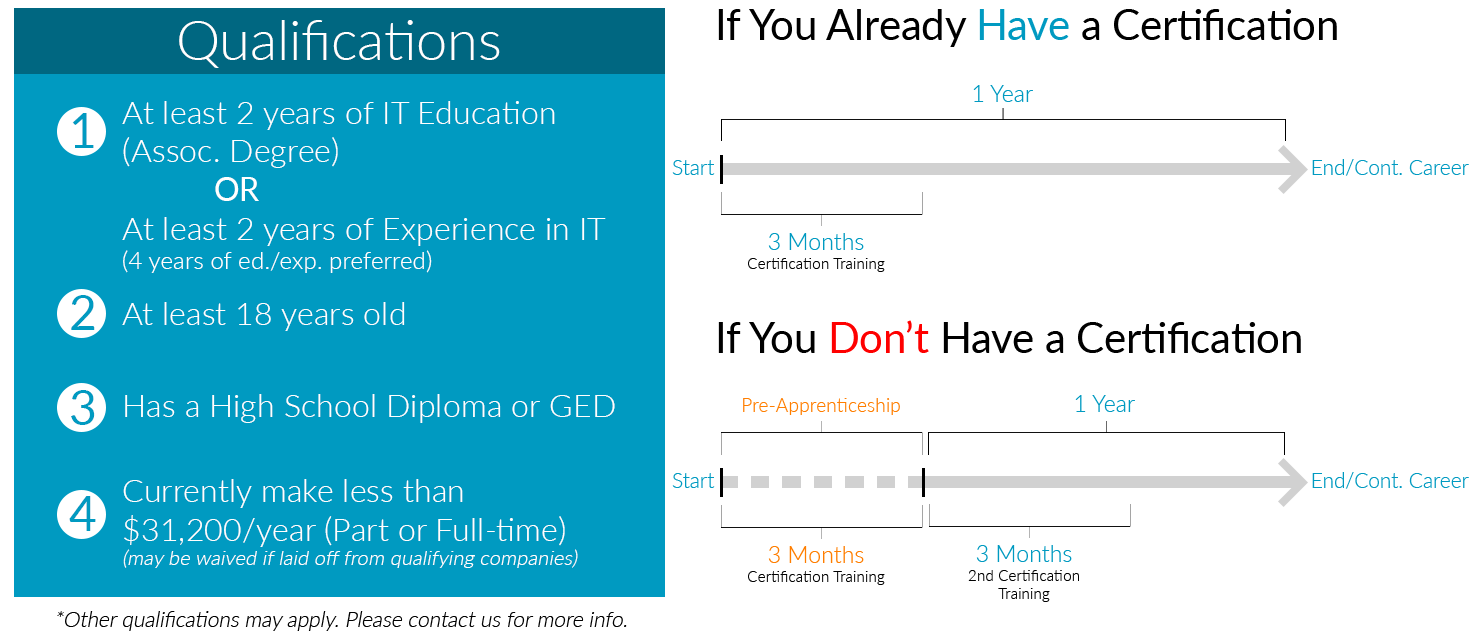 ---
To Learn More & See If You
Qualify for an IT
Apprenticeship Program
---